Pentagon Spokesman Addresses Indo-Pacific, Ukraine and Race
Pentagon Press Secretary Air Force Brig. Gen. Pat Ryder resumed briefing today after a grueling around-the-world trip with Secretary of Defense Lloyd J. Austin III.
Ryder addressed the trip, the release of a report compiled by a DOD internal review team on racial disparities in the investigative and military justice systems and answered reporters' questions on Ukraine during the briefing in the Pentagon's newly refurbished briefing room.
Austin finished the trip, which took him from Japan to Singapore to India in the Indo-Pacific region, in France where he met with European leaders and participated in the D-Day Remembrance Ceremony in Normandy.
"Each stop afforded [the secretary] the opportunity to meet with counterparts to discuss our continued focus and shared vision of a free and open Indo-Pacific region at a time of real momentum in our key relationships," Ryder said.
He said the nations of the region are coming together with the shared vision of the region for the future. Ryder said this shared vision encompasses the ideas that "all nations are free to thrive on their own terms without coercion or intimidation or bullying."
He quoted Austin's speech to the Shangri-La Dialogue in Singapore saying "It's a vision of a free and open and secure Indo-Pacific within a world of rules and rights. And that vision is anchored in some key principles to include respect for sovereignty, adherence to international law, transparency and openness, the free flow of commerce and ideas, human rights and human dignity, equal rights for all states large and small and resolving disputes through peaceful dialogue and not coercion or conquest."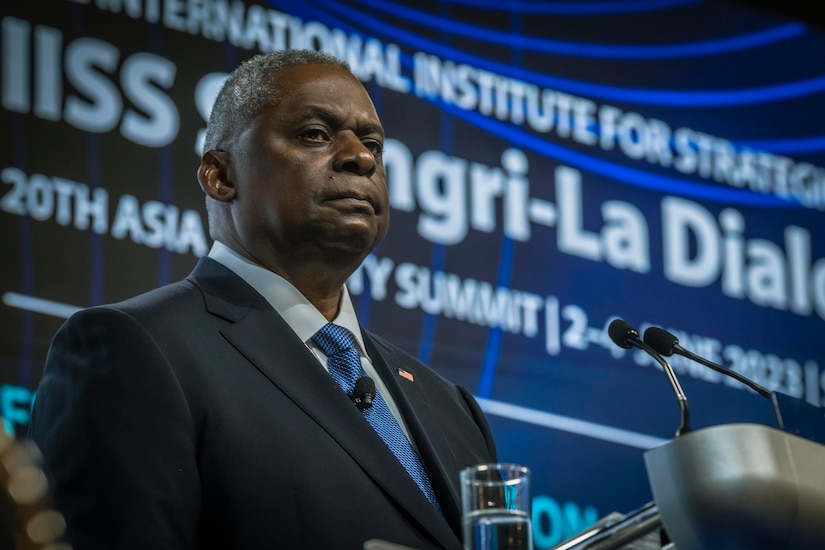 Undersecretary of Defense for Policy Colin Kahl is following the secretary's footsteps in a visit to the region for a series of engagements in Hawaii, Korea and Japan, the press secretary said. "During the visit, he'll meet with senior Indo-Pacom military leaders and conduct various counterpart visits in Japan and Korea that will further strengthen our ironclad alliances and partnerships in the region," Ryder said.
Ryder also spoke of the Defense Department Internal Review Team on Racial Disparities in the Investigative and Military Justice System. Deputy Secretary of Defense Kathleen Hicks formed the team, and the report has been delivered to her. "The [team] was charged with addressing root causes of racial disparities in the investigative and military justice systems, and providing actionable recommendations to improve department policies, processes and resources to address such disparities," Ryder said.
The report details 17 recommendations, based on three lines of effort. These are: training and education, service member protections, and oversight and transparency. "The [team] also found that additional data and research are warranted to identify and address root causes, mitigate bias and eliminate disparities," he said.
Ryder also announced that Secretary Austin will journey to Europe next week where he and Chairman of the Joint Chiefs of Staff Army Gen. Mark A. Milley will host an in-person meeting of the Ukraine Defense Contact Group on June 15, followed by the NATO Defense Ministers meeting on June 16.
Ryder told reporters that DOD is aware of increased fighting in Ukraine. "When it comes to characterizing those particular operations, or talking about those operations, that's really something that's best left to the Ukrainians," he said.
Ryder said the department is examining the breach of the Dnipro River dam that is causing hardship, suffering and death in the region. "We're continuing to assess how this could have happened," Ryder said. "I'm not going to get into hypotheticals or speculate. I think it's very clear, however, the reason we're in this situation is because Russia invaded Ukraine. It's obviously a terrible humanitarian tragedy."
Ryder said that Russia has the power to end this suffering. "Again, why are we in this situation? In February of 2022, Russia invaded Ukraine and attempted to eliminate it as a country," he said. "So, the Ukrainians naturally have a right to defend themselves. And we have a right to be able to support them to defend themselves.
"It's very clear that on a daily basis, there are Russian forces attempting to kill innocent Ukrainians. And we — the United States government — are going to work with the international community to do everything we can to help them defend their country and take back sovereign territory."
12.06.2023 / Andreea Dragan, Deputy-Editor-in-Chief
The diplomatic daily newspaper Nine O'Clock does not assume responsibility for the information received and published on the public website. The responsibility for the content lies solely with the issuer of the press release.
The diplomatic daily newspaper Nine O'Clock cannot be held accountable for false information transmitted by the recipients of the press releases/announcements.
The diplomatic daily newspaper Nine O'Clock reserves the right not to publish press releases that contain inappropriate expressions or accusations and violations of the rights of other individuals, guaranteed by the Constitution of Romania.
The content of the website www.nineoclock.ro is intended for public information. Copying, reproduction, recompilation, modification, as well as any form of content exploitation from this website are prohibited. The use of the Comments section signifies your agreement to abide by the terms and conditions regarding the publication of comments on www.nineoclock.ro.